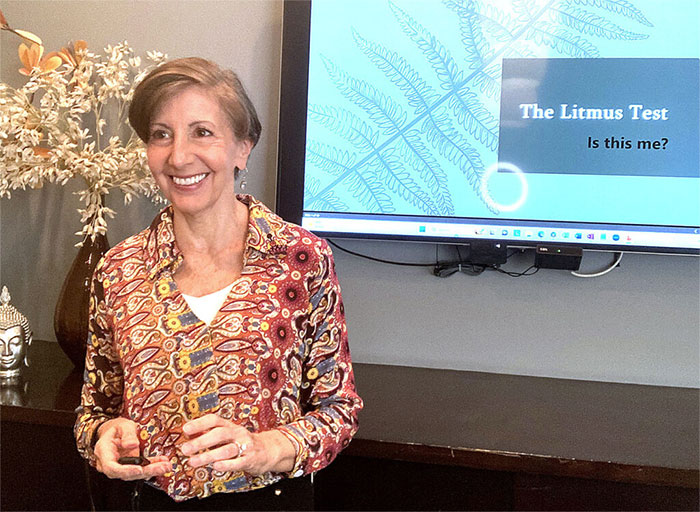 Need a Thought-Provoking Speaker for Your Upcoming Event?
My delivery is conversational, engaging, humorous, and intimate. I openly challenge the status quo that keeps us feeling restless, stuck, and on edge.
Topics I Speak On
I enjoy speaking on all things inspirational and spiritual. Topics like living authentically; cultivating more awareness in everyday life; how to thrive emotionally; everyday health and wellness practices; the most powerful approach to transformation; the mind-body-spirit connection; and uncommon philosophical truths, like how we're already perfect.
I can relate modern-day problems to timeless wisdom.
Having coached hundreds of individuals and spoken to dozens of groups, my intention is to connect on all levels of being, physical, mental, emotional, and spiritual, drawing from decades of practice, and offering fresher perspectives on their lives. 
I can relate modern-day problems to timeless wisdom solutions for lasting change. I've taken deep dives into the yoga philosophy of Vedanta, world religions, Stoicism, and psychology. Decades of study and steady practice have prepared me to deliver profound messages and make meaningful connections with audiences of all sizes.
"Barbara speaks from a place of authenticity and grace. Her lifepath illuminates higher wisdom for herself and others, and with such quality, she ushers a space for others to step into observance, and ultimately, light."
M.M., EVENT MANAGER
Let's discuss how I can inspire your audience.
Whether you're looking for an inspiring keynote or an interactive workshop, if you'd like to discuss having me speak at your event, please contact me here.